Hello there fellow cheese fanatics and welcome to the inaugural edition of the Clock Shadow Creamery E-Newsletter! Here, we'll keep you informed about the goings-on in our factory and retail store, let you know at which upcoming community events you'll be able to find us and let you in on some of the super secret recipes for which our staffers use Clock Shadow cheeses. Thanks for coming along for the ride!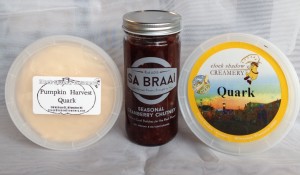 Quark News:
Attention Bakers: Due to overwhelming demand, our plain quark is now available in one pound tubs for your holiday baking convenience!
Now introducing new seasonal Quark flavors:
Pumpkin Harvest Quark: Our signature quark cheese, paired with one of fall's favorite flavors. Close your eyes and you'll swear you're eating pumpkin pie! Pair it with some Potter's Cranberry Hazelnut Crisps and it's the perfect treat to bring to Thanksgiving dinner.
Cranberry Holiday Quark: For this one, we've teamed up with the folks at SA BRAAI to blend our signature quark cheese with their new seasonal cranberry chutney. We guarantee it will be a staple at your holiday table.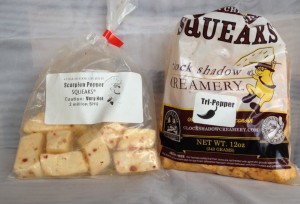 Calling all curd lovers!
Here at CSC, we just can't leave well enough alone. We know our curds are the freshest in town, but now we've been playing around with some new flavors.
Please give a warm, squeaky welcome to Tri-Pepper and Scorpion Pepper, the newest cheese curd flavors to join the Clock Shadow line-up.
A mix of chipotle, cayenne and black peppers, the Tri-Pepper curds offer a full-bodied flavor with a nice kick.
Meanwhile, clocking in at 2 million Scoville Heat Units, our Scorpion curds are not for the faint of heart! (Seriously, they come with their own warning label.) These white cheddar cheese curds start out innocently enough. That is, until our cheesemakers coat them in a powder made from the second hottest pepper in the world. Scorpion peppers are bested only by the dreaded Carolina Reaper. So the real question is, can you take the heat???
Check out what some of our partner vendors have been cooking up lately:
SA BRAAI Seasonal Chutney: All the deliciousness you've come to expect from SA BRAAI Chutneys, with a cranberry tang that's perfect for your holiday get-togethers.
Chef K. Clark Beer Jelly: Jelly. Made from beer. Just let that sink in for a minute. A little different? Sure. Delicious? Definitely. Genius? Absolutely. These little jars of wonder come in five flavors: Chocolate Porter, Coffee Stout, Oktoberfest, Nut Brown and American Pale Ale. They would go great on a grilled cheese sandwich, but here at the factory, our favorite way to enjoy these is to mix them with some quark for a truly decadent pretzel dip.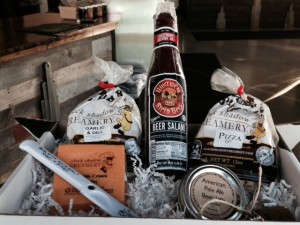 Gift Boxes available!
Not sure what to bring to all those holiday parties you've been invited to? Have family and friends not fortunate enough to live in America's Dairyland? Either way, nothing says Happy Holidays like a box filled with Clock Shadow Cheese and accompaniments from our partner vendors! Email, call or visit us at the retail store for details.
Where there's a wheel, there's a way!
There's no better way to wow your holiday crowd than by setting out an entire wheel of Clock Shadow cheese! Contact the retail store for availability and pricing.
Meet the Cheesemaker
Mark Lins
Cheddar,quark, curds, whatever your pleasure, we get it. You're a fan of our cheese. But what about the people who make that cheese possible? This month, we sat down with Head Cheesemaker Mark Lins to find out what makes him tick. Lins has been working at Clock Shadow Creamery since December 2014, but he's not a newcomer to the Clock Shadow family. Before joining our ranks, he'd been working at our parent creamery, Cedar Grove, since 1981. Back when he landed that gig, he'd been working as a herdsman and saw an ad in the newspaper seeking cheesemakers. Thinking it sounded interesting, he decided to give it a try and he's never looked back.
Of course, when you're sitting down with a man who's devoted much of his life to cheese, it's not hard to guess which direction the conversation will take. We were dying to know Lins' favorite types of cheese. "I like a good sharp cheddar," Lins tells us in his characteristically unassuming manner. But he was quick to add that the sheep's milk cheeses Cedar Grove cooks up rank pretty high on his list, too. (We can't say we blame him. The Donatello is a favorite around the CSC retail store, too!)
A good cheese doesn't need a whole lot of dressing up, and Lins tends to let them stand on their own, preferring to enjoy his favorite cheeses as they are, just with crackers. But when pressed for cooking ideas, he said he likes to chunk up a good, aged cheddar, and toss the chunks into a pot of chili.
We know Lins works hard. Often, he's at the factory getting the cheesemaking process going while the rest of us are asleep, with visions of cheese curds dancing in our heads. But still, we were curious to know what he does in his free time.
"Whatever my girlfriend wants," says Lins. Smart man, am I right?
Upcoming Events
Summer may be over, but we're made of hearty Wisconsin stock, so you won't catch us hibernating this winter. Check out all the events where you can catch up with your favorite CSC staffers and get your hands on some cheesy goodness:
Every Saturday: Milwaukee County Winter Farmers Market. You can find us every Saturday from Nov. 7 through April 9 at the Mitchell Park Domes. (Sorry, no market Thanksgiving Weekend.)
Nov. 14: MPTV Winter Farmers Market. Join us at the MPTV Farmers' Market from 9 a.m. to 1 p.m. at the Auction Studio in Brookfield. Free parking, free admission.
Nov. 19-22: Best Christkindlmarket Milwaukee: This four-day event runs from 4-10 p.m. Thursday and Friday; 11 a.m.- 10 p.m. Saturday and 10 a.m.- 5 p.m. Sunday at Best Place at the Historic Pabst Brewery, 901 W. Juneau Ave.
Nov. 21: Westown Holiday Bazaar. This event takes place from 8:30 a.m. until 1 p.m. in The Shops of Grand Avenue. What better way to kick off the holiday season than by getting a head start on your holiday shopping while attending Milwaukee's 89th Annual Holiday Parade? We thought so. We'll see you there.
Nov. 28: Barley and Whey Festival. We'll be sampling our cheeses at the Wisconsin Cheese Mart from 1-8 p.m. The festival is a free event, but if you want into the 7 p.m. tasting featuring Clock Shadow cheeses and beers from Brenner and MKE breweries, you'll have to buy tickets. (Available through the link on the Cheese Mart's Facebook page.)
Nov. 28: Small Shop Saturday. Clock Shadow will be participating in Small Shop Saturday with a special offer. Stop in our store and buy a $25 gift certificate for someone special on your list and get a free bag of curds for yourself! We'll also be featuring more samples than usual, so be sure to bring your appetite!
Dec. 6: Build-Your-Own Gift Box Fair. Stop by the CSC retail store from 1-4 p.m. to shop for gift boxes from Clock Shadow and local partner, From Milwaukee With Love. While you're there, get to know local author Lori Fredrich and have her sign a copy of her new book, Milwaukee Food: A History of Cream City Cuisine.
* These are all the events that have been confirmed as of the publication of this newsletter. For updates on new events as they're added, don't forget to like us on Facebook!
Home Cheesemaking Class
If you're receiving this newsletter, chances are you're a die-hard fan of those delicious hunks of fermented milk. You've most likely visited the factory on curd day and stood, mesmerized as our cheesemakers stirred those beauties around in the vat. You may even had toyed with the idea that maybe, just maybe, you could do that yourself. Well, guess what? You can. Clock Shadow Creamery is proud to announce that on Wednesday, Dec. 2 at 6 p.m., tour specialist and home cheesemaker Sharon Giesfeldt will be teaching an after-hours beginners home cheesemaking class in our retail store. Participants will learn to make several easy, fresh cheeses using equipment they probably already have at home. The fee for the class is $25 per person and includes a kit to take home to try making the cheeses on your own. To reserve your spot, call the retail store at 414-273-9711. Space is limited so call today!
Featured Recipe: Quark Cheesecake
Recipe courtesy of Tour Specialist Sharon Giesfeldt
This recipe calls for either an 8- or 9-inch springform pan or pie plate.
Crust
8 oz graham crackers, crushed.
⅔ cup butter, melted
1 ⅓ cup sugar
cinnamon to taste
Makes enough crumbs for a larger 10 ½-inch springform pan. Be sure to reserve at least 1 cup of crumb mixture to use for a topping, if desired. (Extra crumbs can be frozen and used at a later date.)
Rub sides of pan with butter if you do not have a teflon-coated pan for easy removal. Spread crumb mixture into pan– pat onto the bottom and up the sides.
Bake 5-10 minutes at 325 for a crisper crust.
Filling
3 eggs
1 lb. Quark
½ cup white sugar
¼ cup Brown sugar
pinch of salt (a pinch is equal to 1/16 of a teaspoon)
Flavoring
½ teaspoon Penzey's Double Strength Vanilla
Juice and zest of half a lemon or 1 ½ teaspoons of almond extract
In a food processor or blender:
Beat eggs with sugar until light.
Add salt, vanilla and lemon or other extract for flavoring.
Blend in quark until well mixed.
Pour into the hot crust. Top with remaining cup of crumbs if desired.
Bake 1 hour and then let sit in the open oven with the heat turned off for 1-2 hours to cool.