Happy Holidays from Milwaukee's Own Clock Shadow Creamery!
Calling all curd lovers!
While the rest of us were preparing our turkeys for Thanksgiving day, Cheesemaker John was cooking up some experimental new flavors to dress up our curds. They went head to head in a tasting for our customers to vote on our next flavored curd. We had three diverse contenders: Raspberry Jalapeno, Wisconsin Sausage, and Bloody Mary.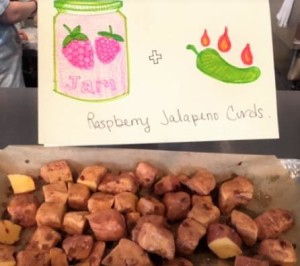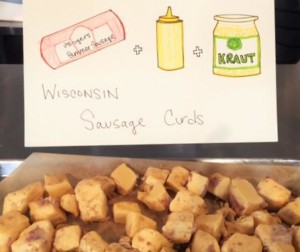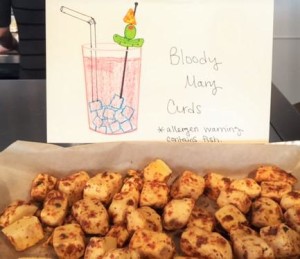 The people spoke and voted for… (drum roll, please)…….Wisconsin Sausage! The yellow curd is flavored with Usingers summer sausage, a brown spicy mustard, and sauerkraut. We will be debuting our new curd flavor this Friday, December 18th!
Holiday Gift Ideas for the Cheese Lover in your Family:
The 2nd and Bruce St. Gift Package
Are you looking to buy a gift for those people on your holiday list that love local booze, cheese, and music?!? Well, the businesses at S. 2nd St. and Bruce St. in Walker's Point got together to celebrate our little corner of the world with a Gift Package! It includes: two vouchers for a tour at both Central Standard and Milwaukee Brewing Co., two vouchers for a concert at Anodyne Coffee, and two cheese tour vouchers at Clock Shadow Creamery, which includes a bag of fresh curds. All for only $60!!! They can be purchased at any of the participating businesses.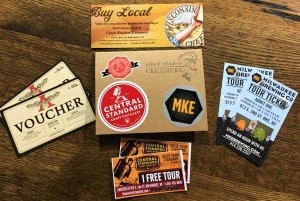 Quarkstollen now available at Amaranth Bakery!
Have you ever tried stollen with our quark? Whole loaves of this seasonal German treat can be ordered now at Amaranth Bakery! These make for a perfect addition to any holiday party. The bakery is located at 3329 W. Lisbon Ave in Milwaukee. They use the highest quality ingredients available for all of their baked goods and deli items, including organic flour, organic sugar, and our quark. Our new friends at the Amaranth Bakery share our vision of providing fresh local foods to the Cream City!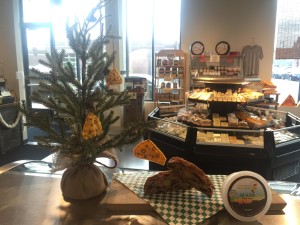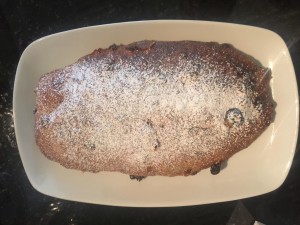 Gift Boxes are also available!
Not sure what to bring to all those holiday parties you've been invited to? Have family and friends not fortunate enough to live in America's Dairyland? Either way, nothing says Happy Holidays like a box filled with Clock Shadow Cheese and accompaniments from our partner vendors including: Martha's Pimento Cheese, Koepke Farms, Cedar Grove, SA Braai, 5 Lillies, Tabal Chocolate, Treat Bake Shop, Chef K. Clark Pickles and Preserves, Scrumptious Pantry, and many more!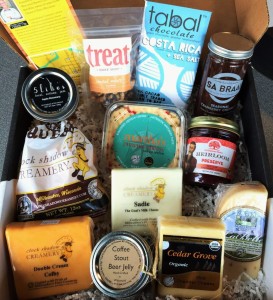 Log on to Clockshadowcreamery.com, call us, or visit us at the retail store for details. ***The last day to ship packages for gifts to arrive before December 25th will be Monday, December 21st!!!***
Where there's a wheel, there's a way!
There's no better way to wow your holiday crowd than by setting out an entire wheel of Clock Shadow cheese! We have a special running through until the end of December—flavored and mild cheddar wheels will cost $75. Contact the retail store for availability.
Upcoming Events
Every Saturday: Milwaukee County Winter Farmers Market.
You can find us every Saturday from now through April 9 at the Mitchell Park Domes
January 9th at 2PM: "John Riepenhoff and Arthur Ircink: The Art of Cluture Makers"
"Arthur Ircink, executive producer of Wisconsin Foodie, will screen a short of Culture Makers, Beer & Cheese in Milwaukee's Art World–that explores 2014 Nohl Fellow John Riepenhoff's food-related projects, Double Cream Colby and the Beer Endowment. Anne Kingsbury will also be beading her deer hide in the gallery on this final day of the Nohl Fellowship exhibition."
Event link: https://www.facebook.com/events/909153645837663/
January 14th at 6 PM: Taste of the Ward 2016
Event link: http://www.skylightmusictheatre.org/shows-events/events/taste-of-the-ward-2016
January 16th at 2:30 PM: Isthmus Beer and Cheese Fest
Event link: http://www.isthmusbeercheese.com/

* These are all the events that have been confirmed as of the publication of this newsletter. For updates on new events as they're added, don't forget to like us on Facebook!
Home Cheesemaking Class
If you're receiving this newsletter, chances are you're a die-hard fan of those delicious hunks of fermented milk. You've most likely visited the factory on curd day and stood, mesmerized as our cheesemakers stirred those beauties around in the vat. You may even had toyed with the idea that maybe, just maybe, you could do that yourself. Well, guess what? You can.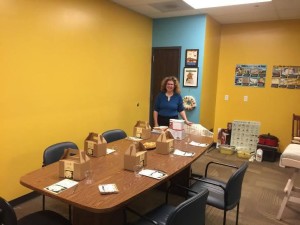 Clock Shadow Creamery offered our first cheesemaking class at the beginning of December and back by popular demand, we are looking to repeat this seminar again in January. Our tour specialist and home cheesemaker, Sharon Giesfeldt, will be teaching an after-hours beginners home cheesemaking class in our retail store. Participants will learn to make several easy, fresh cheeses using equipment they probably already have at home. The fee for the class is $25 per person and includes a kit to take home to try making the cheeses on your own. Please check out our Facebook page for updates on a date for the next class!

Clock Shadow Creamery in the News:
This fall we had an aspiring journalist from UW-Madison write an article on our creamery. Here is Tyler's take on Clock Shadow: http://curbonline.com/creamery-city/
When we say we use local milk to make our cheese, we are not kidding. We get a portion of our milk from the Milwaukee County Zoo and you can learn more about it here: http://culturecheesemag.com/cheese-bites/urban-milwaukee-creamery-makes-zoo-cheese
http://www.jsonline.com/news/milwaukee/milk-from-zoos-cows-becomes-cheese-at-milwaukees-only-urban-creamery-b99614714z1-347744181.html
Featured Recipe:
Salmon and Dill Quark Dip
Ingredients:
8 ounces of quark
1 tablespoon freshly squeezed lemon juice
1 tablespoon minced fresh dill
1 teaspoon prepared horseradish, drained
1/2 teaspoon kosher salt
1/4 teaspoon freshly ground black pepper
1/4 pound (4 ounces) smoked salmon, minced
Directions:
Add lemon juice, dill, horseradish, salt, and pepper to 8 oz. of Quark and mix. Add the smoked salmon and mix well. Chill and serve with crackers.
Salmon can be substituted for smoked trout. For this mixture, we suggest substituting the dill for paprika.
Clock Shadow Creamery Facebook Page: https://www.facebook.com/Clock-Shadow-Creamery-280695705311211/

Clock Shadow Creamery Instagram Page: https://www.instagram.com/clockshadowcreamery/

Our mailing address is:
Clock Shadow Creamery
138 W. Bruce St.
Milwaukee, WI 53202