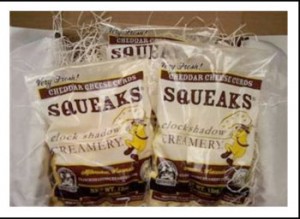 Something SQUEAKY
For fresh Cheese lovers everywhere, this is a dream come true.  In this box, you'll get three 12 ounce bags of delicious, nutritious Clock Shadow Creamery Cheese Curds.  Choose from the following:  White, Yellow, Garlic Dill, Cajun, Spicy Ranch, Tomato Basil, or Pizza
---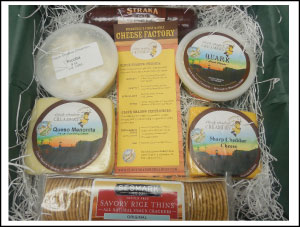 Celebrating Milwaukee's Diversity Box
Clock Shadow Creamery completed its first year as Milwaukee's only cheese factory. We are overwhelmed and delighted by the support we have received from our neighbors.  We enjoy crafting the traditional cheese of the cultures that make up Milwaukee.  Enjoy this sample of some of these cheeses.  This box contains 8 oz of German style Quark, ½ pound of Queso Menonita (a Mexican melting cheese), 8 oz of Ricotta, and ½ pound of sharp cheddar. It also contains Sesmark Gluten free crackers and summer sausage.
---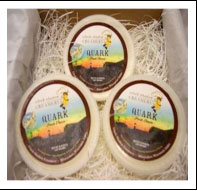 Quark Cheese Box
This Gift Box contains three containers of Quark. This German-style, soft, spreadable cheese is traditionally used for spreading on rye bread or a bagel.  You can substitute it for cream cheese, sour cream or ricotta. Mix it with 5 Lilies Jam for a sweet treat or stir in your favorite dip mix for a savory treat. Choose from: Plain, Garlic and Dill, or seasonal flavors.
---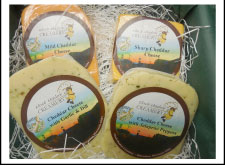 Small Clock Shadow Creamery Sampler
Four ½ pound pieces. Your choice of cheese from the cheese list below.
Large Clock Shadow Creamery Sampler
Six ½ pound pieces. Your choice of cheese from the cheese list below.
---
Mail Order Cheese List (all rBGH and GMO -free)
All our cheeses are produced from the highest quality milk. This milk is produced by proud patrons who produce their milk without the use of the synthetic growth hormone rBGH. Clock Shadow Creamery's policy is not to use ingredients that are genetically engineered.
Mild cheddar, Medium cheddar, Garlic Dill Cheddar, Cajun Cheddar, Onion Chive Cheddar, Hot Pepper Cheddar, Tomato Basil Cheddar, Spicy Ranch Cheddar, Green Olive Cheddar, Sharp Cheddar, Queso Menonita, Quark, Ricotta, Maple syrup quark, Garlic Dill Quark
Other
Cow Pie Chocolate Candy                 $4.00
Sesmark Gluten Free Crackers        $5.00
Bavaria Beef Summer Sausage                   $6.00
5 Lilies Jam                      $7.50
Shipping information
Shipped VIA U.S. Priority Flat Rate Box – 2 to 3 days
Delivery price depends on market rate. Depending on season and delivery location, cooler box may be necessary
Questions? Ready to order?
Call: 1-414-273-9711
E-mail: retail@clockshadowcreamery.com
Mail: 138 W Bruce St. Milwaukee, WI 53204